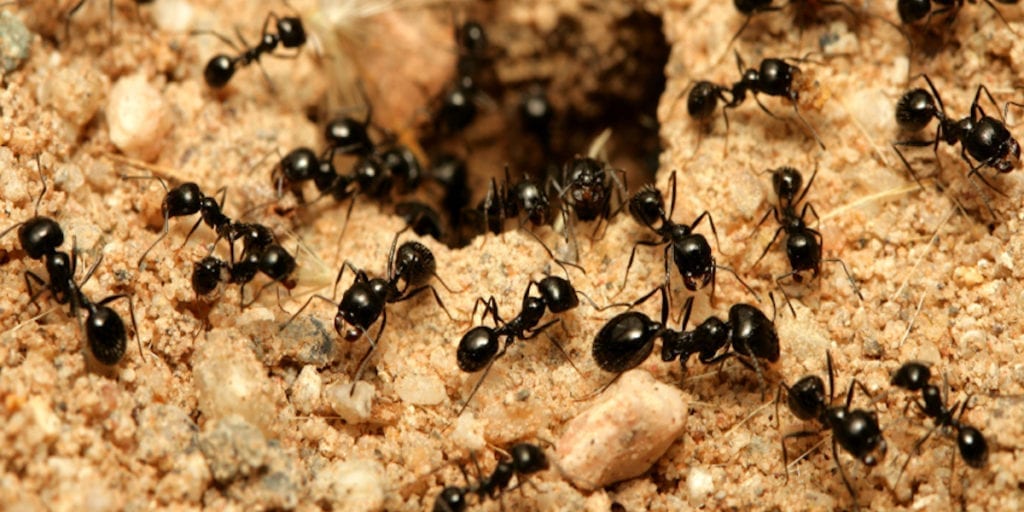 Little Black Ant Colony
If you are finding little black ants consistently in your Arizona home and yard, it is likely you have an ant colony nearby. Ants spread out from the colony in search of food & water, finding their way to kitchens, pet food, restrooms, pantries, and other spaces. Hot weather creates the perfect storm for ants to head into your home. They may seem like there are endless clusters of them moving to and from your home and around your yard, but there is an effective way to combat them.
What are Little Black Ants?
Little black ants can come in a variety of colors ranging from dark-brown, black and jet black. They can be found throughout the United States, including the Phoenix Valley of Arizona. Just like their name, they are about 2mm in length and have two nodes on its pedicel. The little black ants are very similar in appearance to Pharaoh ants except for its darker coloration. Almost all little black ant colonies originate from an outside dark covering. Tree stumps and piles of wood and bricks are common nesting areas for this type of pest. Once inside, they can be found in wall voids, underneath the edge of carpeting or t-molds, cabinets, or masonry. Don't be deceived if the problem has progressed and it appears the ants are coming in from all around – the infestation originates from one source. The source will be found in one of the nesting areas mentioned above. The next step is to find this location by tracking the ant trail(s) using some professional techniques.
Follow the Ant Trail
Following a clearly defined trail of hundreds of ants may not seem difficult; but, when you add breaks in the line, obstructions, coverings, or multiple trails – it can get tricky. To successfully track, follow the ant trail in the opposite direction that the majority of the ants are headed. If there are multiple trails, this may take more time, but you will eventually find their home. It's similar to solving a maze puzzle: Start with one route and if you come to a dead end, start from another route. When you have followed the trail outdoors, removing grass or vegetation from the foundation, driveways, and sidewalks will be beneficial to continuing the hunt. Hidden trails can be found this way. Also, consider raking any vegetation or mulch around trees and shrubs. Ant colonies can be found underneath anything that is in contact with the soil – including sprinkler heads. The most common nesting area for little black ants is tree stumps, dead wood or piles of items (bricks or stones). If located within a tree, the ants could be traveling up and down the trunk to a dead limb or hole high up – accessing this location may be difficult. Having a tree company prune any dead branches can remove the current ant colony and prevent any future ones from occurring.
Tips for Preventing Ants in Arizona
1. Wipe Up Crumbs & Spills Immediately
Ants seem to start out on your floors and on your countertops. They are there because your crumbs and spills are there. Make a habit of sweeping up crumbs right away. Spills should be wiped up, and if sticky, should be cleaned with soap and water or another appropriate cleanser.
2. Keep Food in Sealed Containers
Opened bags of chips, crackers, cereals, and other snacks should be rolled up tightly and kept closed with a clip or other similar device. Sugar and flour should be placed in airtight containers. Honey, maple syrup, and other sticky-sweet goodies should be stored in the refrigerator.
3. Dispose of Garbage Appropriately & Regularly
Keeping food scraps in your household garbage is a huge no-no, especially in the summer. Invest in an outdoor composter and put raw food scraps in the composter, immediately. Raw food scraps include potato peels, banana peels, lettuce ends, carrot tops, and any other uncooked food. You can also toss your egg shells, coffee grinds and teabags into your composter. Make sure to keep your compost bin far away from home's foundation.
4. Keep Pet Food & Water Dishes Clean
Your pet's food bowl is easy-pickins for ants. Serve your pet only the amount of food that she will eat in one sitting. Any leftover dry kibble should be tossed or put back in the bag for tomorrow. Wet food leftovers should be treated like cooked food scraps (see above). Your pet's water bowl should be cleaned regularly to avoid an accumulation of food residue or the stray bloated kibble. Your pet's dry kibble bag should be kept in a airtight container.
5. Seal Cracks & Holes with Silicone Caulk
Silicone caulk is readily available at any of the big box home improvement stores. Your local hardware store is also likely to carry silicone caulk. YouTube can provide you with a quick tutorial, if you need one, on how to apply caulk to exterior cracks.
6. Repair Holes or Gaps in Window & Door Screens
Big box home improvement stores sell screen repair kits, but truthfully they can often be a pain. Oftentimes, your local hardware store can be your best resource when you have a rip in a screen. Our neighborhood hardware store fixes screens for $2-$5 a screen. You take them out of the window, drive them down, and often can pick them up the next day.
7. Replace Weather-Stripping
Your doors and windows can provide easy entry for not only you and your expected guests, but also the unexpected and unwanted guests—ants. Inspect your doors and windows regularly and replace any loose or damaged weather-stripping. These materials are cheap and easy to use. In most cases, you roll it out, remove the backing, and just stick it on.
8. Repair Loose Mortar Around Foundation & Windows
Ants can find their way inside your home through tiny crevices, so eliminating these will prevent one source of entry. This is a task best left to the professionals. Surprisingly, masons are not as expensive as one might think. Look up a reputable mason, or get a good solid reference from a dependable source.
9. Keep Tree Branches & Other Shrubbery Trimmed & Away From the House
Eliminating nearby shelter and pathways will also reduce the amount of ants coming in close contact with your home. For larger projects, you may want to call the professionals. You can likely take care of the low shrubbery yourself with a good set of hedge clippers.
Little Black Ant Control
If you still can't find the nest, there still are methods for controlling the ant problem. Place baits near trail entrances into your home. This can attract many more ants for a couple of days before they start to subside. The baits will be collected by the ants and taken back to the nest to feed the rest of the colony. How's that for a little bit of trickery? If you are able to locate the source nest and know where the hundreds of ants that were in your home are residing, you can take them out in one fell swoop. Contact a pest prevention company like Bug Guardian to help with
ant removal
. Continually monitoring pest activity around your property can make for a solid pest prevention plan as well, which is something Bug Guardian can also assist with.
READ NEXT: Keep Ants Away From Your Home