The Best Pest Control Services in Gold Canyon
Bug Guardian Pest Prevention provides a custom approach to Gold Canyon pest control. Our equipment, products, methods of treatment and control strategies have been designed to specifically target and exterminate Gold Canyon pest populations.
First, we start with a comprehensive inspection to determine the most effective treatment strategy for Gold Canyon pest control in your individual home or business. Based on the inspection results, we will integrate several environmentally friendly approaches to ensure maximum protection and pest control. In the rare case when it is needed, call backs between services are no extra charge.
We will return every month or every other month to service the perimeter of your home to maintain the protective barrier to prevent insect entry. The inside of your home needs to be treated every 2 – 3 months or if there is a problem.
By treating each home individually and providing a custom and planned service, we are able to ensure proper pest control. Our Gold Canyon pest control home service is backed by an uncompromising goal towards quality and your satisfaction.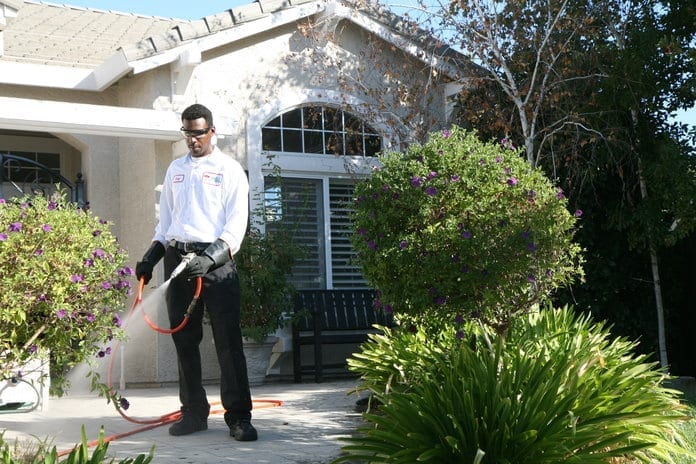 Experience & Excellence in Gold Canyon Pest Control
Our highly trained and experienced Gold Canyon pest control experts strive to provide the best customer service and most effective pest treatment programs across the Valley. We know Gold Canyon pests and the nuances in treating for them that are specific to Gold Canyon, including pest behavior and migration, hard to find hot spots, and the unique issues presented by desert living.
To ensure you are always satisfied, and to prove that we stand behind what we do, we always offer 30-day guaranteed service with no-cost follow up.
We never pressure you into a long-term contract, we simply provide the best service that you and your family deserve. We take pride in offering the most affordable prices that come with the greatest level of pest control service in Gold Canyon.
As a family owned and operated business, we understand what it takes to make a house a home, and we are excited to take part in making that happen. Contact us today to see how we can help you with any pest problems you may have.
Contact Bug Guardian for Gold Canyon Pest Control Service Today!
Call or Contact Us Below for a Free Quote
Bug Guardian Office Contact:
Gold Canyon Pest Control Services Offered
Bug Guardian offers a variety of Gold Canyon pest control services to ensure your home is pest free. Our highly trained, certified technicians will thoroughly inspect your pest problems, identify the best course of action to take, and implement an effective and cost friendly custom solution for your home or business. Our experience and expertise in pest control in Gold Canyon gives us the advantage of an accurate assessment of the property and proper diagnosis and treatment of the pest issues specific to your needs.
Why Choose Bug Guardian for Gold Canyon Pest Control?